Recordings
News & Updates
M&G and Barbara Lynn

In December, 2012 we had the pleasure of having the great Barbara Lynn in our studio. Barbara broke big in the sixties with her crossover hit, "Don't Lose a Good Thing." She toured with Hall of Famers The Supremes, Stevie Wonder, Otis Redding, Sam Cooke, James Brown, Al Green, The Temptations, Jackie Wilson……you name it. Her distinctive style on the left-handed Stratocaster set her apart from the crowd. The Rolling Stones covered her "Oh Baby (We've Got a Good Thing Goin')" in 1964. Check her out on the youtube. You won't be sorry.
Joe talked Barbara into traveling up to NoVa from her home in Beaumont, Texas to bring her soulful voice to some new songs we've been working on. Gus and Barbara joined forces for some powerful and poignant duets. Watching her bring her incredible experience to our songs, to see the lightbulb go on and hear her say, "I'm feelin' it now!" and see her move into the song…..Wow.
Over three days we all worked our butts off to get these tracks done. Joe's been gettin' all Mad Scientist down in the Forest, recording additional parts and brewing up the final product. Stay tuned…..
---
Unable to confirm…
01/10/13
Just heard from a fan today that he heard our song "Bye" at a Bose in-store display at Best Buy. Contractually we can't confirm or deny this, but I wonder if one could hear it at most all Bose displays around the country?!?
---
TV and Planes
07/16/12
The song 'Bye' will be played on USA Network's 'Necessary Roughness' which airs Wednesday, July 18th. Also, if you're on a Delta/NorthWest flight be sure to put your headphones on – they're playing our song 'It's Not Hard To See'.

---
The votes have been counted…
07/16/12
We will be working up a version of 'Wind Cries Mary'. We hope to have that out soon as well as a new batch of tunes. Thanks for all the votes!
---
01/06/12
Very cool…Our song 'On and On' was heard on the CW's show Hart of Dixie. And we're more than thankful for all of the support we've received from radio stations all over the nation – a few of which you can see below. Most importantly, thanks to our fans for the continued support!
---
9/14/11
Seems to me, Gus, we've successfully negotiated a fork in the road. The destination has always been – write, record and perform honest music on our terms. Read the rest here..
---
New Album Still Here Available on iTunes
Click here to listen and purchase on iTunes.
Stay tuned as we're putting plans in place to get M&G and Still Here out into the world…
---
Special Alexandria, VA performance: May 15th
Focus (amazing supporters of music) has invited us for an intimate evening to perform songs from our last 2 albums. We're excited about this special performance as we are also inviting some friends to play with us. Click here for more information.
Address:
Church of the Resurrection
2280 North Beauregard Street
Alexandria, Virginia 22311
Ticket Information: $18 general, $15 members & PayPal in advance.
---
New Album Pre-Release!
M&G's new album 'Still Here' is exclusively available (CD and downloads) HERE until April 22nd when it will be available worldwide on iTunes. More details and insights coming soon.
---
Here's a peek at the new album cover (front & back)
Thanks to Dan Schuman at Lawrence Marie who did an excellent job!

---
3/19/11
We're filing this under, 'better late than never' to find out that an award was won for a bank commercial campaign where the song "Bye" was featured. The award was won as part of American Banker's Association 2009 Financial Marketing Awards ceremony. The Norway Savings Bank campaign was the winner in their asset class and was also declared "Best of Show". The song was featured in many of their spots. Click through to check out a few more.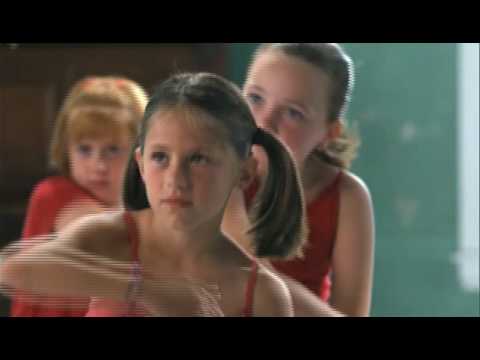 ---
2/17/2011
We're excited to be mixing the new album with Grammy award winning Jason Lehning in Nashville. Jason Lehning is currently wrapping up an album with Mat Kearney and has worked with such acts as Griffin House, Alison Kraus, Nickel Creek, Guster and Lyle Lovett.
---
8/24/10
Here's a live recording and video of an acoustic version of the song Is As If. For best quality, after pressing play, instead of the 360p setting in the lower right hand side, choose 480p. Don't forget you can download the audio of this song for free here.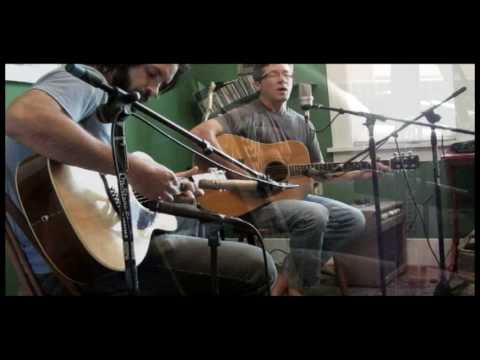 ---
3/31/10
We're having to put the brakes on our monthly releases for now. Rather than go into the juicy details as to why, we'll try to create some drama and mystery by keeping quiet about it!
---
3/2/10
A free audio download of Home is available here from the acoustic M&G video just released.
---
3/2/10
Since our first video release we've been excited to receive requests to release a video for Home. Here it is! This video comes from the same night of recording we did for our last video, Where From Here. Don't forget you can download the audio of this song for free here.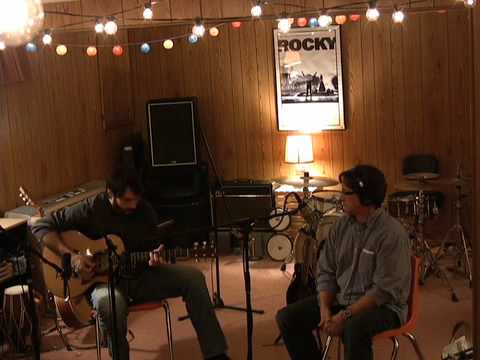 ---
2/23/10
We need to thank some people who have helped us get our music out there to be heard. A lot of effort goes into creating what you see and hear on our website and in our performances, and we haven't done it alone.
This website would not be up and running if it were not for Nalini Sekhri Martinez and Mike Fisher. The hours, energy, and effort these two have spent are far too great to measure. Building a website is a painful process (Joe can tell you some stories) and Nalini and Fish built this website from the ground up. What you see is impressive enough, but we are equally impressed with how they did it. Thank you, Nalini and Fish, for all your hard work!
We are most fortunate to have a group of fine musicians behind us who make the music come alive in our performances. Denis Pachas (on drums), Andy Bailey (on bass), and Christopher Vann (on guitar) have gathered with us at the Forest on Sunday mornings for over a year now, working out arrangements of our tunes for our live shows. Their talent and professionalism are matched only by their generosity with their time and their attitude toward the music. Plus they're fun to be around! Thank you Denis, Andy and Chris!
And where would we be without the endless support of our families and friends? Thanks to all of YOU. You know who you are.
Joe & Gus
---
12/28/09
A few words about the song I'd Say Go. It was originally written about a decade ago and has undergone some changes over the years. In the player below, you can hear the very first original draft recording I did of this song (c.1999). You'll hear it's come a long way.
Say Go (Demo)
I'd Say Go was originally going to be part of the Gathering Change release in '06, but it just wasn't ready at that point…
Click here to read the full post
---
12/21/09
Our first video release is an acoustic duo performance of the song "Where From Here" from Gathering Change. The video comes from a session we recorded at The Forest (where most of the recording is done for all of our songs). Mike Fisher (Fish) not only shot the video but also recorded the audio and then edited all the video and audio…you'll see he did a fantastic job!
Free Download:
Download this acoustic version of "Where From Here" for free, here.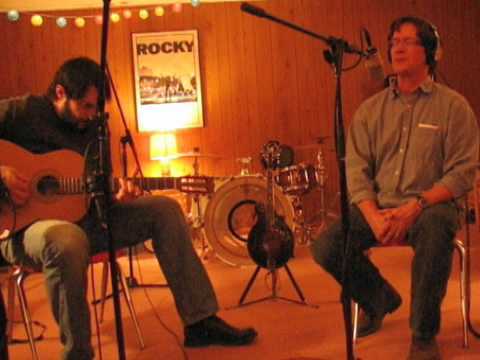 ---
12/14/09
Sheesh, Joe. I can't believe I never replied to that heartfelt blog of almost a year ago. There you were, laying yourself open…countless tedious hours of writing, practicing, working out parts, laying down tracks…and now you were finally letting someone else hear them.
And my reaction was underwhelming…
Click here to read the full post
---
12/04/09
The day after finally having 4 songs officially mastered and ready for the world, I went back and read the last blog I wrote, 'A First Listen' from almost a year ago. So, Gus, did you have some concerns about the songs back in January? Or maybe I should also be asking if you have concerns about them now! It wasn't so much of a conscious decision, but…
Click here to read the full post
---
10/19/09
Some good news…
Having recently just finished a great string of performances…
Click here to read the full post
---
1/14/09
Well, Gus, I was apprehensive about our getting together the other night…
Click here to read the full post
---
12/12/2008
Well said, Gus. We caught a break…
Click here to read the full post